CNC Control type PARMIGIANI "FAST":
with Automatic program mode for single radius shapes: the control automatically creates the complete bending program, simply entering the part data (radius, length, yield factor, type and size of section), with all the sequence for obtaining the required shape. If necessary the program theoretically calculated by the control can be optimized by the operator.
The control include also the multi-pass feature selectable by the operator in function of part size and characteristics.
The control include also the interpolation function that allow to produce multi radius shapes.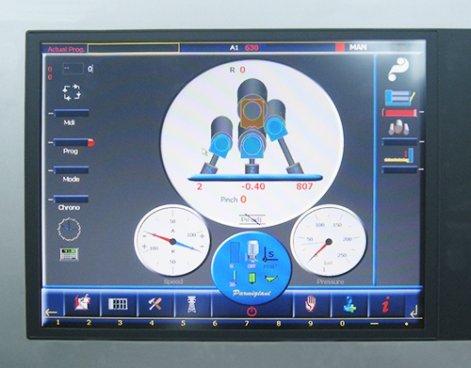 • 15" full color display, touch – screen
• 3 Controlled Axis (unlimited upgradeable number of axis)
• Three possible ways of programming: Aided, Editing and Play-back mode
• Storage Memory Capacity: up to 10.000 programs
• Advanced Extended Diagnostic
• Profile feeding measurement via pneumatic pushing roll with encoder
• Infinitely variable rolls rotation speed controlled by the CNC
• Infinitely variable side rolls positioning speed controlled by the CNC