VBH Series 4-roll plate bending rolls
Almost a century of forming experience and cooperation with our customers are incorporated in our VBH 4-roll plate bending rolls.
The VBH is the best machine for both, cylindrical and conical bending.
The main features of our VBH rolls are the greater bottom roller pinching force (for short flat ends and optimum pre-bending) and the higher drive torque (for single pass process) to boost productivity.
A winning combination for those looking for performance of the highest level.
Productivity - Efficiency
The VBH Series plate rolls:
flexible, versatile, powerful and efficient
More productivity and high efficiency come standard
Infinitely variable speeds,
Infinitely variable pinching pressure
Calibration working mode
are only some of the features that you can control from the operator mobile panel, just moving a finger
Best manufacturing technology

Dedicated controls from PARMIGIANI for plate rolling cover an entire range of applications.
All softwares are in house developed by Parmigiani technicians with great experience in plate rolling.
From the simple, compact DIGIMATIC control to the STRADIVARI (unlimited number of axis) there's a PARMIGIANI control for nearly every application.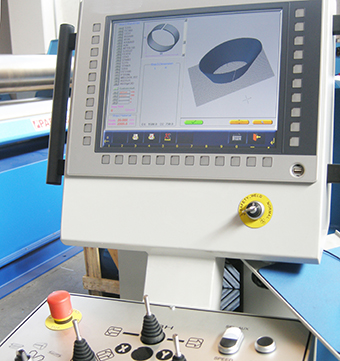 From job shop applications to high-volume production, a Parmigiani VBH will exceed
your quality and precision expectations
Copyright © 2016 PARMIGIANI MACCHINE. All Rights Reserved.
World
Headquarters
PARMIGIANI MACCHINE
Via Sesto, 44
26100 Cremona
Italy
Tel +39 0372 216.39
Fax +39 0372 457.814
E-mail:
info(at)parmigiani.net

One name. One Family. One Company. Since 1927.