STRADIVARI Playback Control


Welcome to your new dishing station.
Everything you need to run an efficient
dishing operation can be found here.
The STRADIVARI Playback system, the most advanced control available today in the market, specifically in house developed CNC for dishing unit by PARMIGIANI R&D experts allows automatic production of large batches of heads.
With the STRADIVARI control one operator only can run simultaneously more dishing units.


Easy to use. Easy to program.
Accuracy. Productivity.


PARMIGIANI i-Diagnostic system for immediate fault detection.
The i-Diagnostic is a revolutionary diagnostic system that supervises all the main functions of the machine, with an easy to use and intuitive control panel interface.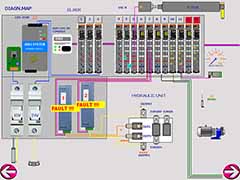 Everything is under control.
With our exclusive extended diagnostic system you have everything under control on the screen: scan and real-time control of all connection wires to the hydraulic valves, encoders, PLC modules, microswitches and many other components on the machine.
This is much more than an instantaneous fault detection system.
Contact us for learn more.
Copyright © 2016 PARMIGIANI MACCHINE. All Rights Reserved.
World
Headquarters
PARMIGIANI MACCHINE
Via Sesto, 44
26100 Cremona
Italy
Tel +39 0372 216.39
Fax +39 0372 457.814
E-mail:
info(at)parmigiani.net

One name. One Family. One Company. Since 1927.