FM Series - Tank Heads Flanging Machines
Parmigiani has been manufacturing bending machines for almost 100 years, and over those years we've come to recognize that nothing is so good it can't be improved.
When it came time to design the new flangers, we made sure to listen closely to what you had to say.
Thanks to your feedback and a dedication to quality, we are introducing some of the smartest and most powerful machines we've ever built.
The FM Series Flanger
flexible, versatile, powerful and efficient
More productivity and high efficiency come standard
Smooth Flanging Performance.
Material friendly flanging.
The exclusive Parmigiani automatic flanging cycle is one of the key advantages of our flanging machines. This assures a material friendly running of the flanging roll along the knuckle roll shape.
With our system you will be in the best forming conditions for a powerful and accurate forming of a wide range of material thicknesses, from very thin to very thick plates.
Also a wide variety of materials can be formed, from boiler plate to stainless steel, aluminum, copper and other nonferrous materials.
This is possible because Parmigiani hydraulic designs allow a negligible plate metal thickness reduction and an excellent surface quality, without grooves and marks.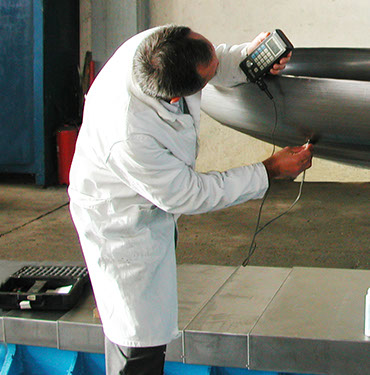 From job shop applications to high-volume production, a Parmigiani flanging machine will exceed your quality and precision expectations.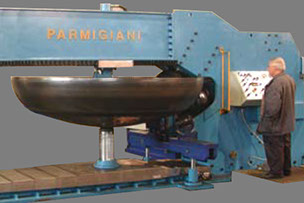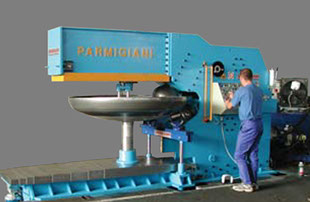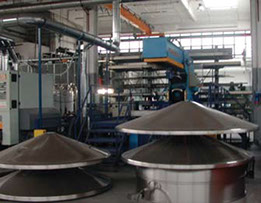 All Parmigiani flanging machines are designed for simple use and maximum flexibility in forming heads in accordance with international standard tolerance. The flanging machines series FM-hy are produced in a wide range of models for production of heads with shapes and designs in compliance of the tolerances stipulated by international standards and for:
- Heads diameter from 200 up to 12.000 mm.
- Plate thicnesses from 2 up to 80 mm.
- Knuckle radius from 15 up to 1.500 mm.
Each model is available in two versions:
- Type "FM-hy": for flanging heads with centre hole
- Type "FM-hy wch": for flanging heads without centre hole
Flanging of a semi-elliptical head without center hole
Flanging of a stainless steel head
Stainless steel cone flanging
Parmigiani flanging machines are engineered for innovators, and built with the speed, strength and capacity to get you there.
From job shop applications to high-volume production, a Parmigiani flanging machine will exceed your quality and precision expectations.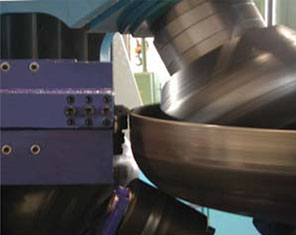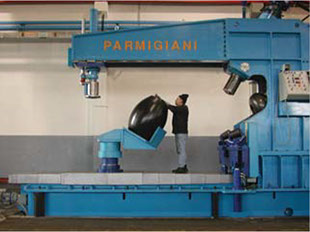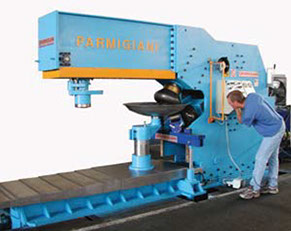 Everything is under control.
Are you loosing with your actual equipment production hours and days checking around the machine which connection wire, Plc card, push-button or fuse is faulty?
Forget this kind of problems with PARMIGIANI i-Diagnostic system for immediate fault detection.
The i-Diagnostic is a revolutionary diagnostic system that supervises all the main functions of the machine, with an easy to use and intuitive control panel interface.
From the graphic screen on the control panel you control almost all electrical connections around the machine; all PLC modules; all micro-switches (You can check also if they are engaged /energized or not) and more....
This is much more than an instantaneous fault detection system.
Contact us for learn more.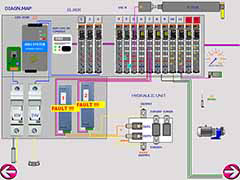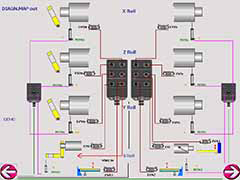 Copyright © 2016 PARMIGIANI MACCHINE. All Rights Reserved.
World
Headquarters
PARMIGIANI MACCHINE
Via Sesto, 44
26100 Cremona
Italy
Tel +39 0372 216.39
Fax +39 0372 457.814
E-mail:
info(at)parmigiani.net

One name. One Family. One Company. Since 1927.