DPO-MAP Series - Advanced Dishing Units
The Parmigiani dishing presses design combines a solid frame with the most updated technological innovations so as to respond to the highest productivity standards.
Press and manipulator movements (moving, lifting and blanks rotation) are synchronized.
One operator controls and programs the fully automatic dishing process from a centralized control panel.
Cycle times drastically reduced thanks to multiple blank dishing.
Parmigiani dishing units are designed to achieve superior speeds and peak performances.
Every detail is carefully considered - from the solid frames to the software controls and the hydraulic design - to help maximize the production output.

Sturdy construction.
High performance long-lasting machines.
The machine frames are welded fabricated, heavily sized for added rigidity and strength and to prevent deflection and distortion.
All plates, supplied by western European steel mills, are quality certified and individually tested with ultrasonic controls.
Welds are tested with magnaflux and ultrasonic controls.
Each frame component, after welding and before machining, is heat treated for stress relieving.
During the manufacturing process we wholly check the frame with dimensional and visual inspections even after the heat treatment.
In order to guarantee the maximum assembly accuracy each frame component is individually machined on CNC milling machines on the matching side.
The deflection of the frame is reduced to the minimum.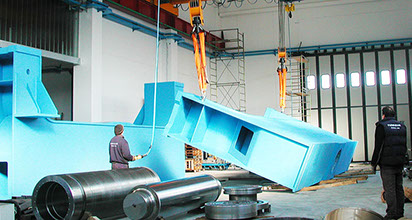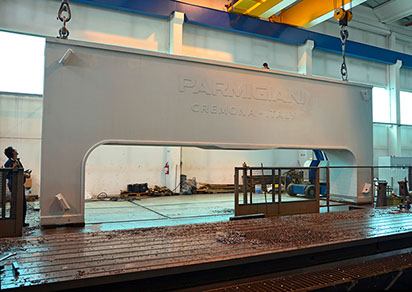 High-strength frames deliver strength and rigidity
for long-lasting performances.


Fast and smooth operation
Advanced Hi-tech hydraulic system
The hydraulic system is the operative core of our dishing unit: it runs every function from the main press ram to the manipulator movements. This is why we invested a lot in research and development, so to give you a smooth, precise and highly responsive system. Through the digital control system we control, by means of dedicated proportional valves, the pressure and the flow in order to allow you to select the most suitable speed during each production step.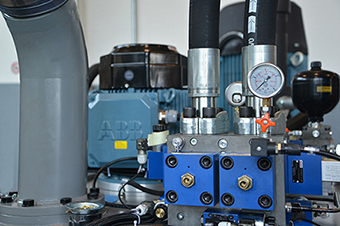 Copyright © 2016 PARMIGIANI MACCHINE. All Rights Reserved.
World
Headquarters
PARMIGIANI MACCHINE
Via Sesto, 44
26100 Cremona
Italy
Tel +39 0372 216.39
Fax +39 0372 457.814
E-mail:
info(at)parmigiani.net

One name. One Family. One Company. Since 1927.