In 1927 Mr.Ernesto Parmigiani started his company manufacturing equipment and the tanks for the chemical industry.
In a few years, the big growth of the chemical industry increased the market demand of metalforming machines especially employed in the tank head and supporting the plants manufacturing industry; (plate bending rolls, section bending machines, flanging and dishing equipments).
For this reason, Mr. Parmigiani started a company which has been and still is a world leader of manufacturing metalforming machines.
The name "PARMIGIANI" today still means KNOW HOW, RELIABILITY and TRADITION.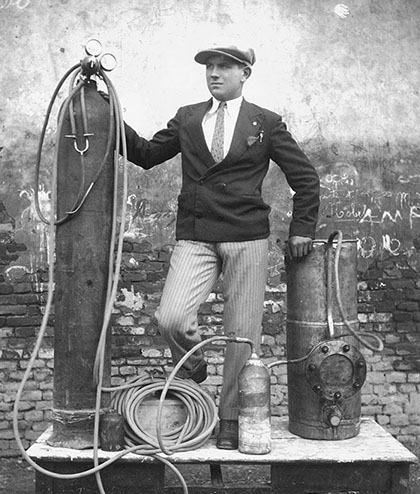 In the 30's the first section bending machine known as "Mercury" is introduced in the market.
This machine would become one of the most sold section bending machines.
In the 50's Parmigiani designed the first self-contained electro-hydraulic machine.
This solution became immediately important for costs reduction, increased efficiency and machine safety.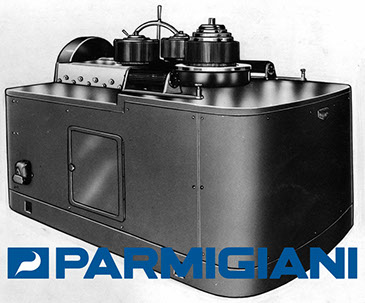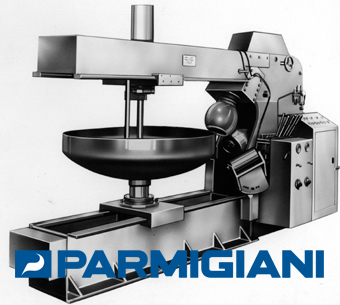 In the late 50's also the 3 rolls plate bending rolls have been definitively refined introducing very avant-garde technologically advanced solutions such as the independent adjustment of the lower rolls regulation (double pinch design for prebending both edges without the need to remove, turn and re-insert the plate) and the 3 roll drive technology, for optimal plate feeding.

1952: Parmigiani 3-roll plate bending rolls 3100 x 25 (10' x 1") , double pinch type, with 3 driven rolls and with intechangeable (small diameter) top roll.
In 1964 PARMIGIANI manufactures the world largest plate bending roll for the Aircraft industries with a useful length of 10 meters (33').
In the early 60's one of the world largest Pressure Vessels Manufacturer committed to Parmigiani a 4600 x 130mm (15' x 6") plate rolling machine type PCO, with fully hydraulic rolls-adjustment and with top roll bending force of 2400 metric tons.
In the 70's PARMIGIANI introduces high efficiency drive on the 3 and 4-roll plate bending rolls via hydraulic motors and planetary reduction units directly coupled to each driven rolls.
In the middle 80's the rolls electronic parallelism control (syncro) becomes a standard on each PARMIGIANI plate bending rolls.
In the 90's PARMIGIANI manufactures a Flanging machine with fully electronically and infinitely variabile speed controls.
The range of production of the PLANET line of section/angle bending machines has been expanded to include larger and more heavy-duty models for bending beams up to 1000mm (40") and pipes with O.D. up to 609 mm (24").
In 1998 PARMIGIANI installs successfully a huge ("THE WORLD LARGEST") 3 rolls CNC Plate Bending Machine for Aircraft industry, with 12 meters (40') working length.
Copyright © 2016 PARMIGIANI MACCHINE. All Rights Reserved.
World
Headquarters
PARMIGIANI MACCHINE
Via Sesto, 44
26100 Cremona
Italy
Tel +39 0372 216.39
Fax +39 0372 457.814
E-mail:
info(at)parmigiani.net

One name. One Family. One Company. Since 1927.